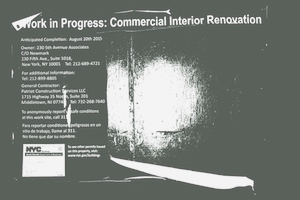 Commercial Interior Renovation
November 18 – 25, 2015

The plywood board fencing surrounding construction sites, often painted in dark green or blue, are transitory yet prevalent testaments to an ever changing cityscape. The uniformly colored wooden boards, visible throughout New York city, delimit perimeters of active and neglected property and obstruct from public use and from view, demarcated spaces intended for potential construction or renovation.
Incorporated into these obstructions to sight, are parallelogram shaped windows, often cut directly into the construction fencing that permit passersby a momentary glimpse in. Advertisements, markings in paint, and the many imperfectly shaped window cuts, provide a working visual syntax that animates both the works on display and the way in which the works are displayed in the exhibition.
Two recently created series of works on paper are displayed behind plexiglas on painted plywood boards. The works from the Listings series were created on pages ripped from a spiral binder of real estate listings organized by criteria relevant to apartment seekers. By matching certain colors that appear in the listing's images, dabs and smears of oil paint applied non-deterministically, partially occlude the textual and visual information contained within the particular listing.
The work from the Ads series were created on advertisements from contemporary women's fashion magazines. In this series, advertisements for luxury accessories and goods are blanketed by vertical striae of adulterated paint applied with a rubber-edged blade normally used for commercial screen printing. In between these two series of works on paper a large diptych painting "Untitled, (Blue-Green)", directly referring to the two predominant colors used on construction fencing is displayed.
An artist's book has been published on the occasion of the exhibition in an unnumbered edition of 100 copies.