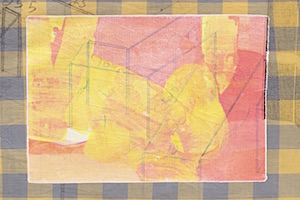 Textile Artifacts
February 15 – 22, 2016

The exhibition Textile Artifacts features collaborative works by Marley Freeman and Todd Kreher on textiles from Freeman's father's collection. Referring overtly to their individual respective practices, the collaboration incorporates screen printed imagery, small painted works on board, and other material from their working environment. Freeman's father became interested in antique textiles in the 1970's and has amassed a large trove of various fabrics since. The collection is currently housed in Hawthorne, California where his company Textile Artifacts is located, and in a storage facility in Brooklyn near the artists' studio.
The decision as to which of the selected fabrics to work with, were materially derived for the artists. Silk for example, was chosen as it seemed easiest to print on. The decision to use silkscreening was fortuitous, as neither currently uses it in their work. Kreher happened to have several prepared screens with images of his large marker drawings reduced in scale on hand, as he was currently working on a book of them. Equally convenient was that high resolution gallery images of works that were recently exhibited by Freeman, were available for separation into four-color CMYK screens. Other images of hers were also chosen that would print well in one color, revealing novel graphical features of work previously created.
The artists were interested in experimenting with color on textile and in the possibility of using their work as a way to add to the patterns therein. The moire effect achieved in the overlapping lines in Kreher's Untitled (Fence) drawings for example, subtly hints at the underlying mesh structure of the textiles on which their printed. Bringing to mind the possibility that textiles could be construed as an architecture of sorts, whose woven designs provide both structural support for the fabric and allow it to act as a visual fence-like barrier to the unclothed portions of the body.